» SunFire 28C
SunFire 28C
Description
Are you looking to add a great commercial tanning bed to your salon, designed with comfort and easy maintenance? Look no further; the Sunfire 28C is all this and more! Offered in three beautiful colors, you will love the design of this bed! Our Sunfire commercial tanning beds are manufactured with turbo cooling turbo technology and have a maximum airflow design to help your clients tan in comfort. We also offer an MP3 speaker option to add to a great tanning atmosphere.
Owning a salon has never been easier with our user friendly digital timer system and easy acrylic removal system for fast, easy maintenance. The Sunfire 28C commercial tanning bed takes only minutes to assemble and install. Manufactured with Wolff bronzing bulbs and energy efficient electronic ballasts, each session will only cost pennies to run.
Lamps
14 x Bench 100 Watt Wolff Reflector
14 x Canopy 110 Watt Wolff Reflector
1 x Optional Canopy 400 Watt Facial Tanner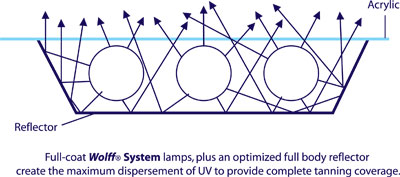 Session Time
Design
Easy acrylic removal system
Tunnel design
Adjustable Spring Lifts
LCD Timer Display
Optional MP3 Hookup
Hour meter
Optional Facial Tanner
Optional Bed Skirt
Cooling
Turbo cooling system
Optional Body Fan
Electrical Requirements
20 Amp Circuit Breaker
220 Volt Dedicated Circuit
NEMA 6-20R
Dimensions
Overall Size: 83L x 36"W x 48"H
Minimum Room Size: 8' x 7'
Warranty
Shipping
Sunfire commercial tanning beds usually take 5-10 business days to arrive and come on an 18 wheeler. The shipping company should call you 24 hours prior to arrival to insure somebody is available to sign for and assist getting this off the truck. Our beds are shipped 98% pre-assembled and will only take 2 people about 10 minutes to finish assembly.
Protective eye wear is required for indoor tanning and must be worn at all times.