» SunFire Pro 32 Deluxe
SunFire Pro 32 Deluxe

Description
Wouldn't it be fantastic to offer your clients a great looking tan in only a fraction of the time? The Sunfire Pro 32 Deluxe is a 14 minute commercial tanning bed that is designed for comfort and great results - faster than your average commercial bed. Equipped with extra-long Wolff bronzing bulbs and facial tanning, your clients will be ready for that cruise with a beautiful bronze glow in no time!
The Sunfire Pro 32 Deluxe is easy to assemble and install and with our easy acrylic removal system you will love how simple it is to maintain Sunfire commercial tanning beds. Our beds are designed with a turbo cooling system and maximum airflow for the comfort of your tanners. Give your clients the atmosphere that no other salon can!
Lamps
16 x Bench 100 Watt Wolff Bronzing Lamps
16 x Canopy 100 Watt Wolff, Mix of Facial and Bronzing Lamps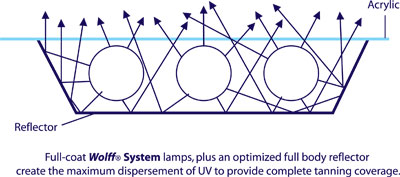 Session Time
Design
Easy acrylic removal system
Tunnel design
TMAX Timer Compatible
LCD Timer Display
Includes Audio Player
Hour meter
Includes Decorative Shield
Cooling
Turbo cooling system
Body Fan
Electrical Requirements
20 Amp Circuit Breaker
220 Volt Dedicated Circuit
Dimensions
Overall Size: 81"L x 36"W
Minimum Room Size: 8' x 7'
Warranty
Shipping
Commerical tanning beds usually take 10-15 business days to arrive and come on an 18 wheeler. The shipping company should call you 24 hours prior to arrival to insure somebody is available to sign for and assist getting this off the truck. Our beds are shipped 98% pre-assembled and will only take 2 people about 10 minutes to finish assembly.
Protective eye wear is required for indoor tanning and must be worn at all times.
"Lamp Color and Design subject to change"