» SunFire Platinum 35
SunFire Platinum 35
Call for Details!

800.421.3734
Description
The 35 bulb commercial tanning bed is one of a kind. This bed comes with longer lamps to give you the extra room to stretch out and still receive a great tan. The integrated decorative shield provides LED light when in use, creating a soothing tanning experiance.

Featuring a digital timer, energy efficient air flow system, and a body fan to keep you comfortable while your tanning. Manufactured with built-in technology designed to maximize airflow while preserving energy efficiency. The Turbo Cooling System reduces operating costs and maintains the ideal conditions to increase the life of the bed's internal components.
The newest option to this tanning bed is the popular MP3 feature. This allows you to connect your MP3 player directly into the bed and listen to music through 2 high quality speakers + 1 built in Subwoofer. Create the perfect atmosphere for your members with the new MP3 feature.
Lamps
14 x Bench 100 Watt Wolff Reflector
18 x Canopy 160 Watt Wolff Reflector
3 x Canopy 400 Watt Facial Tanner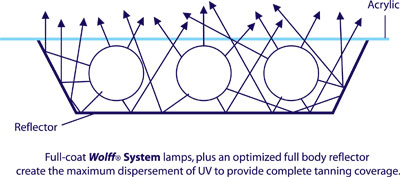 Session Time
Design
Includes Body Cooling Fan
Easy Acrylic Removal System
Turbo Cooling System
Easy Maintenance Feautures
Pillow and Goggles Included
Extra Long Lamps in the Canopy
Includes Decoration Shield
Digital Timer Display
Pre-installed Speakers
Body Cooler
Dual Hour Counters
Step Down Face Tanners
Integrated Decorative Shield
Cooling
Turbo cooling system
Four speed body fan
Electrical Requirements
220 Volt
3 Phase - 25 AMP
Single Phase - 35 AMP
IMPORTANT: Voltage must be less than 230 VAC or may require a Buck Booster
Dimensions
Overall Size: 89L x 39"W x 53"H
Minimum Room Size: 8' x 7'
Warranty
Shipping
Tanning Beds usually take 5-10 business days to arrive and come on an 18 wheeler. The shipping company should call you 24 hours prior to arrival to insure somebody is available to sign for and assist getting this off the truck. Our beds are shipped 98% pre-assembled and will only take 2 people about 10 minutes to finish assembly.
Protective eye wear is required for indoor tanning and must be worn at all times.